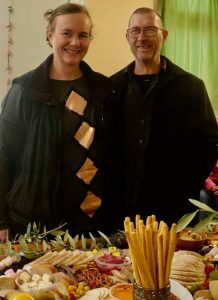 Wayne and Nina Taigel married 21 years with six lovely children and residing in the rural outskirts of Carterton, are the proprietors of Platter Platter.
Wayne has been involved with food forever it seems, coming from parentage that were bakers and food operators themselves.
Formerly trained in the art of cookery at a time that apprenticeships were not in vogue he excelled in a competitive environment, having also had several of his own small food establishments.
Nina too has been heavily involved with food having had her own cafe  and involving herself with Wayne in partnerships with food.
Trying to meet gastronomic trends at the coalface has steered them to this venture to offer Wairarapa and beyond a different perspective on social gatherings and food.
Grazing tables are new and fab ways to interact with guests around food, bringing people and food together in a casual way.
They are the new icebreaker that leaves everyone familiar with each other and remarking over the fare delightfully presented, no more follow the line down the buffet waiting your turn.
Our platters options too are varied and appetizing be it a small informal get together with friends, around a few drinks at home or after work, a corporate luncheon, or perhaps something more formal like a wedding or a 21st our platters or grazing tables make eating fun.
We can do a themed grazing table or platter at any venue you choose just ask.
>